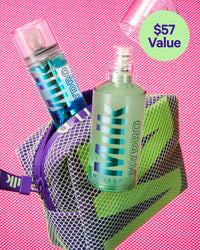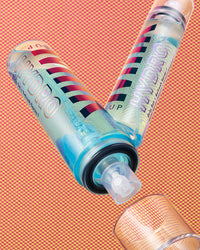 Milk Makeup
Hydro Grip MVPs Gift Set
A limited-edition makeup set featuring our award-winning hydrating makeup primer and setting spray for makeup that stays locked on up to 12 hours.
Includes a full size Hydro Grip Primer, Mini Hydro Grip Set + Refresh Spray, and collectible makeup bag for an unbeatable value.
The products in this set are vegan, clean, cruelty-free, fragrance-free, and paraben-free.
Save 35% when you get 'em all together in this set.
Hydro Grip Primer
-Pump one to two shots of primer onto the back of your hand.
-Blend a thin layer onto clean skin before makeup application.
-Let the formula set for one minute to absorb and activate grip for all-day hold.
-Layer foundation and other makeup on top for a smooth application that lasts all day, or wear alone for a glassy, hydrated, fresh face.
Mini Hydro Grip Set + Refresh Spray
-Shake to mix and activate the dual-phase formula.
-Hold bottle 8-10 inches away from face and spritz twice for an even, fine-mist halo distribution onto skin. Close mouth and eyes while spraying.
-Use as a setting spray to lock in your look for up to 12 hours. Allow formula 1 minute to set makeup.
-Can also be used before makeup application to seal in skincare, prep, and hydrate.
-Reapply throughout the day as desired to refresh skin and revitalize makeup.